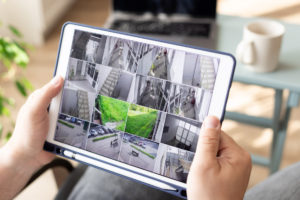 CCTV
From the most complex to the very simple, iDetect offers CCTV Solutions for your business, your home or for an environment that requires monitoring. Our team at iDetect have the engineering capabilities to design a system that will provide a solution to your problems. We have many product platforms to explore from the simplest standalone home solution to the most complexed full networked commercial solution.
Intruder Detection
Everything you treasure should be protected when you are not around. Our trained consultants can run you through a range of alarms, perimeter detection solutions and duress systems. Whether its wired or wireless, mains powered or a solar solution there is a system that will protect the things you love. Once we have installed a solution, iDetect can monitor your home or business 24/7.
Access Control
In todays world, we need to know who is in our building and who is authorised to be in our building. iDetect has extensive experience in the design and integration of access control solutions for todays world. Our team will work with you to design an appropriate and effective solution for your business or your home.
Analytics
iDetect is experienced in all forms of Analytics and now offers a new generation of intelligent CCTV Camera Solutions. Depending on what you require, we can offer License Plate Recognition, Finger Print Recognition, Heat Mapping, People Counting, Data Management and more. Our Team will work with you to establish a solution that will improve your business.
Time Lapse
From the complex and large, to the small and simple, iDetect has a time lapse solution for your project. Whether it's a large building site, a local Government Project or a simple Domestic Construction we can record and share the development with you. Our Time Lapse take ultra-high definition resolution images and turn them into project management and marketing tools for your business. There are many aspects to our Time Lapse platform to explore, live viewing for project management, recording at 8fps to hard drives or cloud storage, unlimited sharing amongst your workforce, mobile apps and website streaming.
Facial Recognition Terminals
Covid-19 and security in the workplace has completely changed the way we live and work, the safety of our people and customers is paramount. iDetect's touchless activation solutions mitigate against disease spread and offer your staff and customers a lower risk of coming into contact with disease. Our engineering team can easily integrate thermal cameras into our iLink Management System to manage visitors and staff coming into your work environment.
Monitoring
In today's world, security monitoring consists of several platforms. From Video Verification and management, to actioning intruder detection alarms. iDetect's monitoring team are renowned for getting it right. We currently have an average of 3 arrests on site per week that our monitoring team contribute towards. iDetect will ensure that we get it right, our team fully supports a number of technical solutions.
Occupancy Monitoring
Know in real time how many people and who is in your business. Manage large and small venues by leveraging our technology that registers and alerts you to peoples temperature or advise you when your venue or workplace has reached capacity. iLink allows your team members to focus on your customers rather then managing people counting, temperature checking and registering upon arrival. iLink provides insight into peak tracking times allowing you to resource team members more efficiently during peak times.